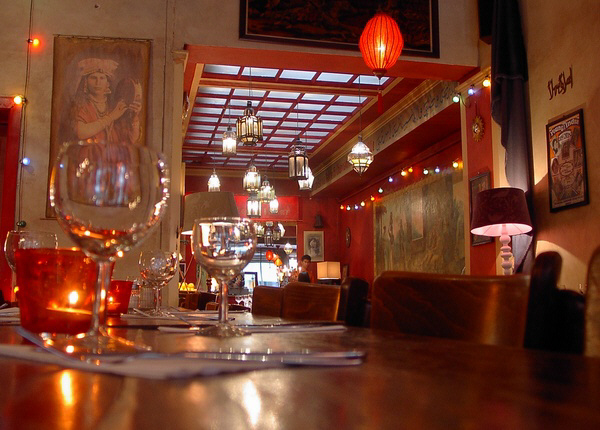 One of my favourite restaurants when I lived in Brussels was a place called Hemisphere which served world cuisine, mostly Moroccan, Indian, Tunisian, Asian. As a vegetarian it's not always easy to find somewhere to eat that has a lot of choice for us herbivores (... do I have to eat dried-up pasta again??) so over time the food has taken a back seat when it comes to my enjoyment of a night out. Having a meal out is still my favourite thing to do, but the ambience of a restaurant has become more important to me when choosing a restaurant.

The reason that I liked Hemisphere is because not only did it have a very extensive veggie menu, but the decoration is fantastic. I've actually gone there on my own a couple of times, had a nice meal with a glass of wine and just looked around me at the proprietor's collection of this that and the other thing from all over the world.

One of the great things about this restaurant though, is that they serve most of their food in tagines.




A tagine (or tajine) is a cooking or serving pot that has found its origins in Morocco. There are two types - the cooking one is (understandably) made of tougher material and works in a similar way to a pressure cooker or slow cooker. The serving one is more decorative but can't withstand high temperatures.

You can really serve anything you like in a tagine but the usual recipe of a tagine (the meal has the same name as the dish) is like a stew of meat, fish or poultry simmered with a mix of veg and spices - usually served with bread or cous cous.




I'm on a recent quest to acquire a couple of these serving tagines, I then plan to round up a couple of people, serve them dinner in the tagine and force them to ooh and ahh over my new gadget!

Here are a few nice ones I've seen on tagines.com




The ones I've shown cost in or around $40. post and packing is extra. I've a vague memory of seeing these in TK Maxx lately, where I'm sure you'd get them cheaper. I'll let you know if I track one down...